UFiber loco (UF-LOCO)
Best plug & play fiber Gpon router UFiber loco (UF-LOCO)
Gigabit Passive Optical Network CPE
High-Performance GPON CPE
LED diodes for easy diagnostics
Up to 2.4 Gbps downstream and 1.2 Gbps Upstream
Supports up to 20 km GPON Links
Powerful Layer 2/3 Management Features
GPON WAN Port
RJ45 Gigabit LAN Port
SC/APC Fiber Connector
Compare
Description
UFiber loco (UF-LOCO)
The sleek UFiber loco is a robust, high‑performance GPON CPE that features extremely low power consumption and the choice of 24V passive PoE or Micro‑USB power. 
• (1) GPON WAN Port and (1) Gigabit LAN Ethernet Port 
• 3.5W Max. Power Consumption 
• Powered by 24V Passive PoE or Micro-USB Power Adapter*
Package Contents
UFiber loco
Wall Mount Bracket
Screws (Qty. 4)
Screw Anchors (Qty. 4)
Micro-USB Power Adapter* (5V, 1A)
* Included only in the single-pack of the UF-LOCO.
System Requirements
Linux, Mac OS X, or Microsoft Windows 7/8/10
Web Browser: Google Chrome (Other browsers may have limited functionality)
Before You Begin
Designing your first GPON deployment requires specific knowledge and planning. For information on GPON network design and installation, including important considerations and best practices, refer to:
For details on configuring UFiber devices for the first time to allow ONU LAN ports to provide connectivity, refer to: ubnt.link/UFiber-Initial-Configuration
Hardware Overview
Reset Button
The Reset button serves two functions for the UF-LOCO:

Restart 

Press and release the Reset button quickly. The three signal LEDs will flash amber.

Restore to Factory Default Settings 

Press and hold the Reset button for more than five seconds.

PON Port
SC/APC GPON port supports WAN connections of 2.488 Gbps downstream and 1.244 Gbps upstream.
Power Port
The Micro-USB Power Adapter connects to this port to provide power.
Ethernet Power
RJ45 Ethernet LAN port supports a 10/100/1000 Mbps connection and passive 24V PoE to power the device.
Ethernet LED
Off
Ethernet connection down
White
Ethernet connection up
Signal LEDs
Off
Bootup
Signal strength: low

≥ -28 dBm

Signal strength: good

≥ -25 dBm

Signal strength: strong

≥ -11 dBm

Signal strength: too low

< -28 dBm

Check the quality of the fiber connection, and calculate the total optical loss of the optical splitters.

Signal strength: too strong

≥ -8 dBm

Add an optical splitter, or add
a 5 or 10 dB optical attenuator.

No signal

Check the fiber cables and connectors, and ensure that the OLT functions properly.

No authority

The UF-LOCO has not been authorized or cannot communicate with the OLT. Check passwords and OLT settings.

Power LED
Off
Power off
White
Power on
Hardware Installation
Wall Mounting

Connecting Fiber
| | |
| --- | --- |
| | WARNING: Never look directly into the ends of fiber or modules. The emitted light could cause damage to the eye. |
| | |
| --- | --- |
| | WARNING: Until ready for use, keep modules and fiber patch cables covered using the included protective caps to ensure the connections stay clean. |
| | |
| --- | --- |
| | WARNING: DO NOT connect the device directly to a UFiber GPON module (UF-GP-B+ or UF-GP-C+). Doing so will damage the device optics. Ensure that the device's received signal level never exceeds -8 dBm. Use a UFiber PLC Splitter to add attenuation as needed. |
Connecting LAN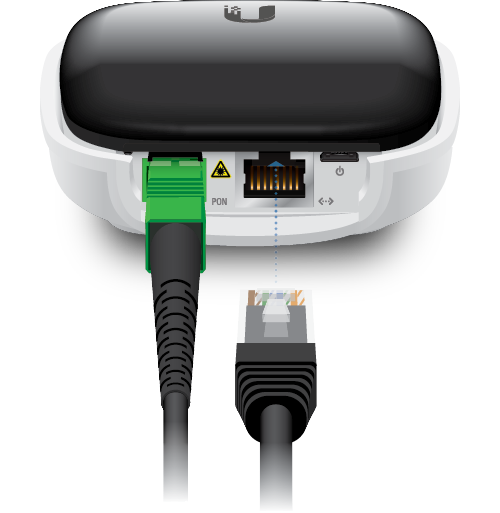 Connecting Power
OR
| | |
| --- | --- |
| | Note: The airCube provides Wi-Fi connectivity with PoE passthrough, so it is the ideal complement to the UF-LOCO for CPE installations. |
OR
| | |
| --- | --- |
| | WARNING: The switch port must comply with the power specifications listed in this Quick Start Guide. |
Accessing the Configuration Interface
Ensure that your computer (or other host system) is connected to the device.
Configure the Ethernet adapter on your host system with a static IP address on the 192.168.1.x subnet.
Launch your web browser. Type http://192.168.1.1 in the address field. Press enter (PC) or return (Mac).
Enter ubnt in the Username and Password fields. Click Login.
Customize settings as needed. For more information, refer to the UFiber resources, which are available at: http://ubnt.link/UFiber-Support
OLT Compatibility Profiles
The device is compatible with most major brands of OLT (Optical Line Terminal) and offers four compatibility profiles. By default the device is set to Profile 1 – Ubiquiti UFiber OLT. For other brands, manually select Profile 2, 3, or 4.
Log into the UFiber Configuration Interface.
Go to Settings .
On the Network screen, click the System tab.
Select the appropriate profile from the OLT Profile drop-down menu:

Profile 1 

Ubiquiti UFiber OLT

Profile 2 

Other brands

Profile 3 

Other brands

Profile 4 

Other brands

Click Save Changes.
The device will automatically restart with the new profile.
Specifications
UF-LOCO
Dimensions
76.5 x 76.5 x 26.4 mm
(3.01 x 3.01 x 1.04″)
Weight
77 g (2.72 oz)
Networking Interfaces
(1) SC/APC, GPON WAN

(1) RJ45, Ethernet LAN

Networking Interface Speeds
(1) GPON WAN, ITU G.984,
2.488 Gbps Downstream,
1.244 Gbps Upstream

(1) GbE LAN, 10/100/1000 Mbps

Management Interface
In-Band Ethernet

PON

Normal Optical Power Range
TX (Class B+): 1.5 to 5 dBm

RX: -28 to -8 dBm

Power Method
Micro-USB: 5V, 1A

24V Passive PoE (Pins +4, 5; -7, 8)

Power Supply
Micro-USB Power Adapter*: 5V, 1A
Max. Power Consumption
3.5W
Supported Voltage Range
4.7 to 5.3V
Processor Specs
MIPS-32, 240 MHz
Memory Information
128 MB DDR3
Button
(1) Reset
Operating Temperature
-10 to 45° C (14 to 113° F)
Operating Humidity
10 to 90% Noncondensing
Certifications
CE, FCC, IC
* Included only in the single-pack of the UF-LOCO.
Safety Notices
Read, follow, and keep these instructions.
Heed all warnings.
Only use attachments/accessories specified by the manufacturer.
| | |
| --- | --- |
| | WARNING: To reduce the risk of fire or electric shock, do not expose this product to rain or moisture. |
| | |
| --- | --- |
| | WARNING: Do not use this product in location that can be submerged by water. |
| | |
| --- | --- |
| | WARNING: Avoid using this product during an electrical storm. There may be a remote risk of electric shock from lightning. |
| | |
| --- | --- |
| | WARNING: CLASS 1 LASER PRODUCT – Do not look into the ends of the fiber optic cable or SFP modules while converters are powered. |
Electrical Safety Information
Compliance is required with respect to voltage, frequency, and current requirements indicated on the manufacturer's label. Connection to a different power source than those specified may result in improper operation, damage to the equipment or pose a fire hazard if the limitations are not followed.
There are no operator serviceable parts inside this equipment. Service should be provided only by a qualified service technician.
Limited Warranty
The limited warranty requires the use of arbitration to resolve disputes on an individual basis, and, where applicable, specify arbitration instead of jury trials or class actions.
Compliance
FCC
Changes or modifications not expressly approved by the party responsible for compliance could void the user's authority to operate the equipment.
This device complies with Part 15 of the FCC Rules. Operation is subject to the following two conditions.
This device may not cause harmful interference, and
This device must accept any interference received, including interference that may cause undesired operation.
This equipment has been tested and found to comply with the limits for a Class A digital device, pursuant to Part 15 of the FCC Rules. These limits are designed to provide reasonable protection against harmful interference when the equipment is operated in a commercial environment. This equipment generates, uses, and can radiate radio frequency energy and, if not installed and used in accordance with the instruction manual, may cause harmful interference to radio communications. Operations of this equipment in a residential area is likely to cause harmful interference in which case the user will be required to correct the interference at his own expense.
ISED Canada
CAN ICES-3(A)/NMB-3(A)
Australia and New Zealand
| | |
| --- | --- |
| | Warning: This equipment is compliant with Class A of CISPR 32. In a residential environment this equipment may cause radio interference. |
CE Marking
CE marking on this product represents the product is in compliance with all directives that are applicable to it.